DENTAL FILLINGS
'Long-lasting fillings with optimal materials: We pay attention to aesthetics, durability and compatibility!'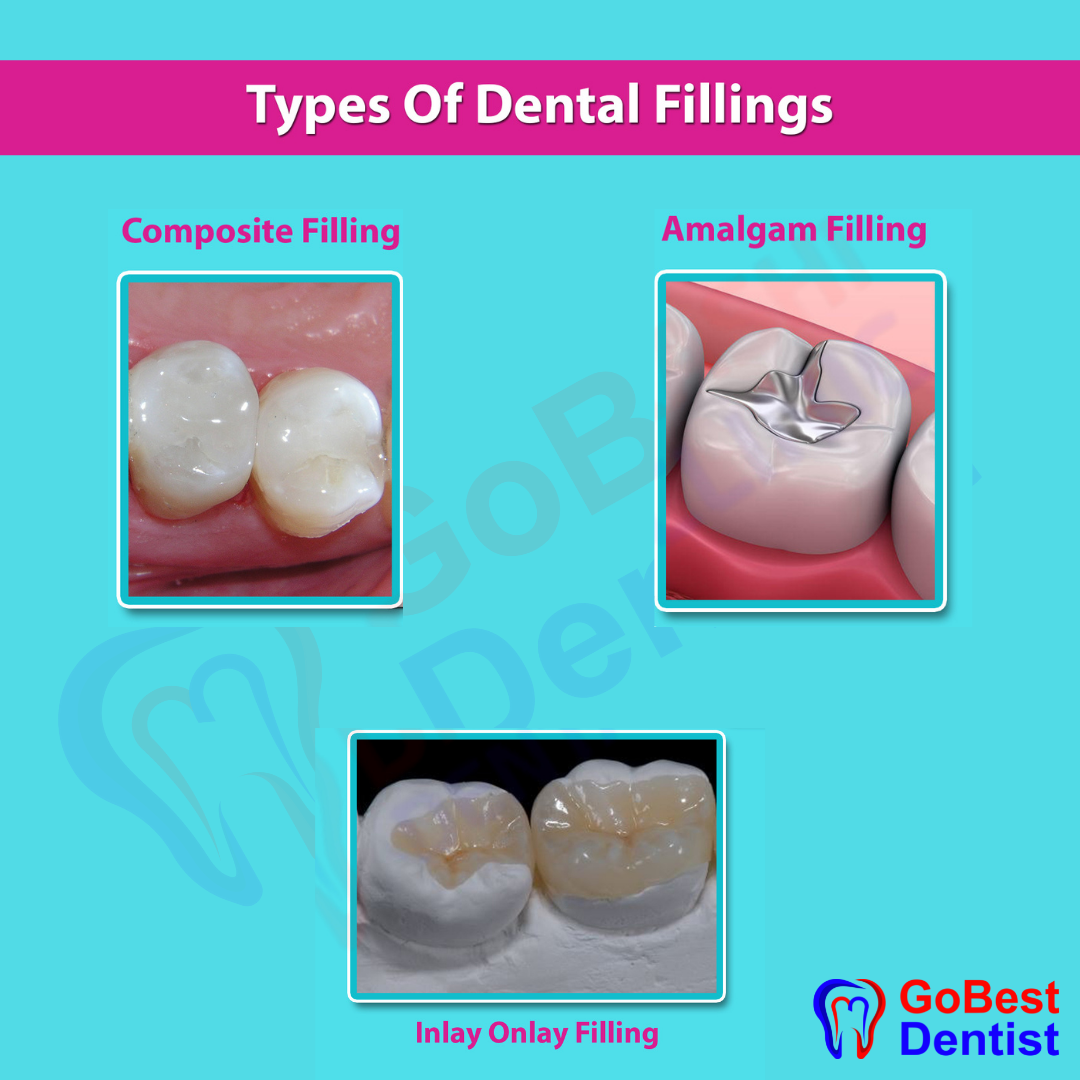 WHAT
What are dental fillings?
Tooth fillings describe the replacement of hard tooth substance. The loss of the hard tooth substance is mostly caused by caries, but it can also be caused by a tooth fracture. The hard tooth substance is replaced by plastic filling material such as plastic (composites), compomers and glass ionomer cements or by inlay fillings in the form of gold or ceramic.
Out of experience and conviction, we at GoBest Dentist only use high-quality composite, ceramic inlays and cement to rebuild carious teeth.
NO to amalgam: Because of the ingredients, especially because of the highly toxic mercury, we do not use amalgam as a filling material.
Looking for Dental cavity and filling treatment in Pune?
CONTACT US NOW
TYPES
Plastic fillings
When talking about plastic fillings, from a dental point of view, fillings with composite are meant. Composite consists of over 50% fillers (silicates, sands) that are held together by a resin.
The composite we use is hardened in a complex multi-layer process. This means that the smallest amounts of composites are stuffed into the tooth cavity (cavity) and hardened with a blue light lamp. The composite material is thus introduced into the tooth cavity using a dentine adhesive, i.e. it forms a bond with the tooth. Although this procedure is time-consuming, it delivers optimal results. The durability of composite fillings is very good if they are carefully processed - we made fillings myself over ten years ago (at the beginning of our clinic) that are still intact today.
Read more
TYPES
Ceramic inlays
Ceramic inlays are milled by the dental technician using a CAD-based technique - one of our strengths is the high accuracy of fit, which is achieved by a good team of dental technicians and dentists. Similar to composite fillings, they are glued into the tooth cavity using dentine adhesives, which means that they bond with the tooth. It is a good option when tooth is not much damaged to need a dental crown.
In addition to classic tooth fillings, high-quality and long-lasting inlay fillings, so-called inlays, are enjoying increasing popularity - especially ceramic inlays.

A ceramic inlay has an average shelf life of ten to fifteen years or longer and is therefore superior to other forms of restoration.
So far, no health risks have been identified when using ceramic as an inlay material. Allergic reactions can also be almost ruled out.
An all-ceramic inlay meets the highest aesthetic standards. It looks completely natural and is visually indistinguishable from the tooth.
In contrast to many other materials, ceramic is an environmentally friendly substance and can be disposed of without any problems after its removal.
A ceramic inlay offers maximum stability and optimal distribution of chewing pressure. Bending or deformation of the material can be ruled out if it is properly fitted. Ceramic inlays are adhesively bonded to the remaining tooth, so even very thin tooth walls can be obtained thanks to the stabilizing function of the ceramic.
Each ceramic inlay is made individually by a well-trained dental technician, fits exactly into the tooth cavity and has a perfect edge fit due to the bonding with the tooth. Thanks to its individually shaped surface, the tooth inlay enables a perfect finish to the neighbouring teeth. The gap between the teeth, where tooth decay often occurs, can be closed. The stability of ceramic inlays corresponds to that of the natural tooth. The already weakened tooth is therefore not exposed to the risk of tension fractures.
Read more
TYPES
Cement fillings
We mainly use glass ionomer cement for cement fillings. This is a good material for long-term temporary restorations, i.e. the tooth is temporarily filled with cement, for example because it needs to be crowned soon. They are also frequently used in cases of cervical abrasion which is a common occurrence with increasing age. A type of glass ionomer cement is also use to stick crowns especially after root canal treatment.
Frequently Asked Questions