DENTAL IMPLANTS
'Loss of tooth is not the end of your smile!'
Dental Implants from our clinic will not only restore the looks but also health back into smile!
WHAT
What is a dental implant?
Of course no artificial technology can beat your natural teeth, but if you don't have that option, an implant is the next best option. Our dental implants look and feels just like your natural teeth.
Dental implants are metal posts that are surgically positioned into the jawbone beneath your gums to provide a secure support for the prosthesis.
Types of Dental Implants:
There are two main types of dental implant options for you to choose from:
1. Endosteal implants
These are the types of implants which are surgically implanted directly into your jawbone by your dentist. There is a specific time period required for your gum tissue to heal around the implanted screw. After waiting for the healing period, a second surgery is performed to connect a post to the implanted screw. The final step is the fabrication and cementation of the prosthesis which can be either single tooth or a bridge (multiple teeth grouped together).

2. Subperiosteal implants
These types of implants consists of a metal frame that is inserted into the jawbone just below the gum tissue. They become integrated with your jaw bone over time through the process known as osteointegration. You may be a suitable candidate for this implant if you have bone loss in your jaw or the shape/health of your jaw is not suitable for insertion of metal required for endosteal implants.
Read more
We ensure that our implants are made of highest quality materials for a lifetime durability!
BOOK YOUR APPOINTMENT
You are a good candidate for implant if: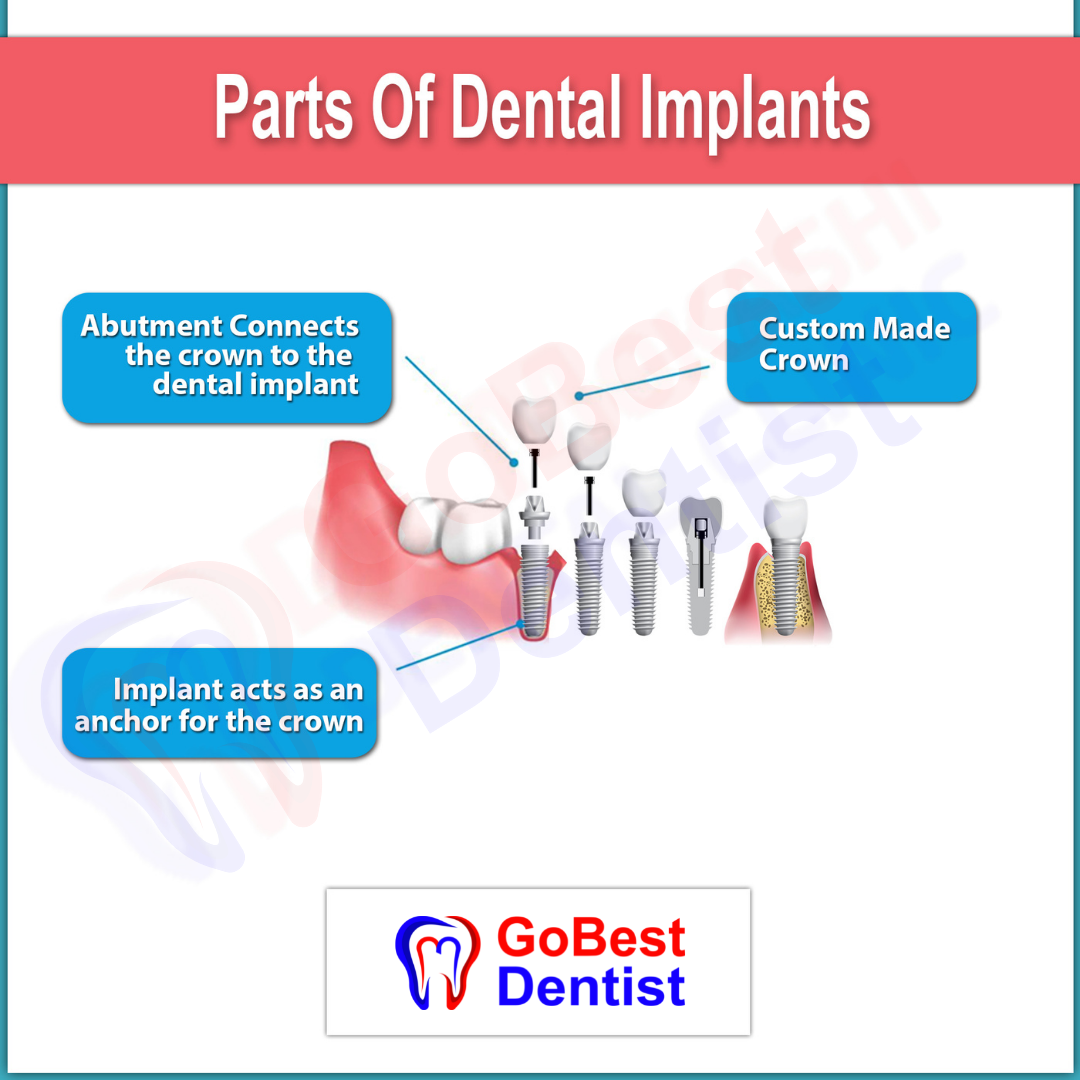 PARTS
Parts of dental implants:
There are three main elements of a dental implant:
1. The Implant Post
It is designed to closely replicate the shape of tooth root and is inserted into the jaw bone during a minor surgical procedure.
They come in variety of shapes and sizes and is hollow on inside to allow the abutment to be screwed into the post.

2. The Abutment
The abutment screws into the implant post and is attached in preparation for the implant tooth. It is used to stabilize the implant tooth and the design depends on the final restoration.

3. The Final Restoration
It is that part of the dental implant that will function and look exactly like your natural teeth. It can either be of cemented type or directly screwed into the abutment. We provide a variety of options for natural looking crown and bridges.
Searching for the Best dental implant in Pune?
CONTACT US
PROCESS
The Process!
So you decided to go for an implant? Congratulations! You have made the best decision in terms of your oral health.
Step 1: The Initial Evaluation
The first step will be a comprehensive evaluation of your jaw bone to decide which type of implant will best suit you. This may include X-rays and taking impressions.
Our dentist will discuss all your medical conditions and medications that you are taking. This may determine the pre and post-surgical steps like prescription of antibiotics to prevent infection.
We will also discuss the surgical anesthesia options that are best suitable for you.

Step 2: The Surgical Procedure
The surgery for dental implants is usually completed in several stages. The typical order of the surgical procedure is as follows:
Extraction of the damaged tooth(if present) and prepare the jaw bone for surgery.
Perform procedures like bone grafting (if required) and insert the implant into the gumline after the bone heals.
After the period of healing, an abutment is placed and your implant is ready to be crowned.
Step 3: Final Restoration
Once your gums are healed, we will take an impression of your gums and the remaining teeth. Now you can choose the type of prosthesis you want i.e Fixed or Removable. Our experienced clinicians will guide you to choose the best option.
Your comfort is our priority!
BOOK YOUR APPOINTMENT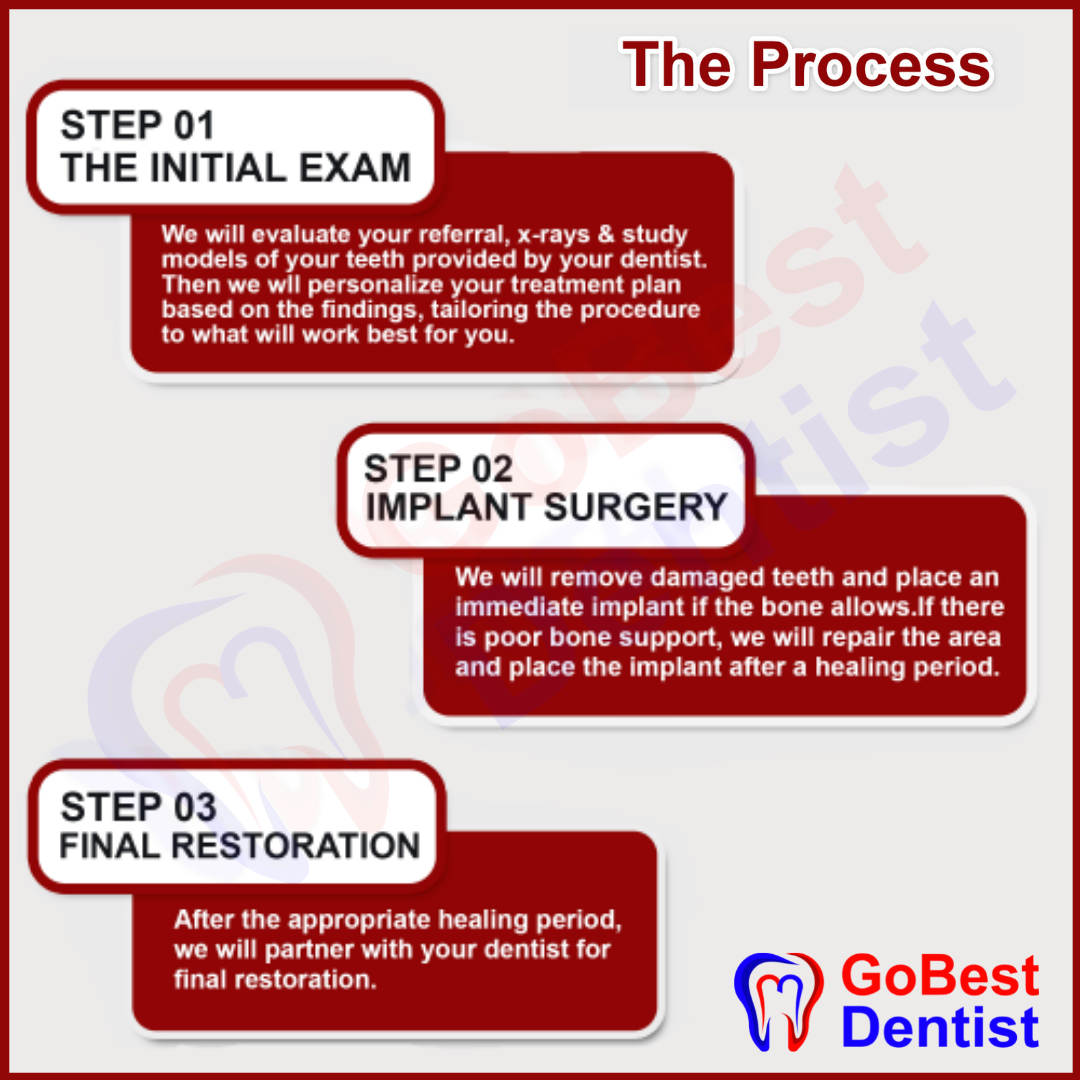 WHY
Why will you love our dental implants?
Easier after-care.
Up to lifetime of durability.
Natural look and feel.
Will improve bone and gum health.
Restore your smile today!
BOOK YOUR APPOINTMENT
Frequently Asked Questions